Gendertrolling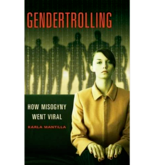 Listen
Kathryn interviews Feminist Studies Managing Editor Karla Mantilla, author of "Gendertrolling: How Misogyny Went Viral". Comedian and actress Leslie Jones was recently the victim of intense and unrelentless online harassment – to the point where her safety was at stake and she had to delete her Twitter account. Mantilla provides key insight into this Internet phenomenon while discussing the legal parameters surrounding the issue such as privacy, anonymity and free speech online.
Guest Links
Gendertrolling: How Misogyny Went Viral
Buy
Trending Topics
Kathryn's wide range of guests are experts and influencers in their respective fields, offering valuable insights and information. Click the links below to view more episodes within the specific topic.
Related Episodes

Episode #1515

Eric Yaverbaum

Author, CEO of Ericho Communications

"Hate Speech to Layoffs, Is Twitter Becoming the Incel Town Square?"

Episode #1152

Jessica Powell

Author & Former Google VP of Communications

"The Big Disruption: A Totally Fictional But Essentially True Silicon Valley Story."

Episode #1422

" P*nis Politics: A Memoir of Women, Men and Power"