Women's Suffrage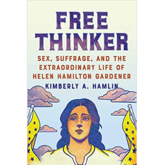 Listen
It's Women's History Month, the 100th anniversary of women's suffrage and an election year. It's the ideal time to shed light on Helen Hamilton Gardener, a suffragist for the #MeToo era, who paved the way for women like RBG, HRC and AOC, as well as raising questions about racial inequality that reverberate today. Hailed as the "Harriett Beecher Stowe of Fallen Women," Gardener is one of the least known pivotal female figures in US history. After being outed in Ohio newspapers for her affair with a married man, she changed her name, moved to a new city and became a famous reformer. Celebrated in her own time, but lost to history, ultimately, she was the "most potent factor" in getting the 19th Amendment through Congress and the highest-ranking woman in federal government. Professor Hamlin contributes to the "Made by History" series in the Washington Post and other popular media.
Kimberly Hamlin PhD has also been featured in:

Guest Links
Free Thinker: Sex, Suffrage, and the Extraordinary Life of Helen Hamilton Gardener
Buy
Trending Topics
Kathryn's wide range of guests are experts and influencers in their respective fields, offering valuable insights and information. Click the links below to view more episodes within the specific topic.
Related Episodes

Episode #869

"Choosing the Hero: My Improbable Journey and the Rise of Africa's First Woman President"

Episode #986

Patrice Banks

Engineer & Automotive Technician

"The Girls Auto Clinic Glove Box Guide"

Episode #877

"On Behalf of the President: Presidential Spouses and White House Communications Strategy Today"