Women In Congress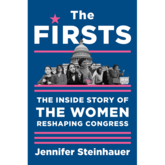 Listen
In January 2019, the largest number of women ever elected to Congress was sworn in - 87 in the House and 23 in the Senate. In many instances, these were the first women and/or persons of color and/or youngest persons to serve from their state or district. Veteran NY Times Capitol Hill reporter Jennifer Steinhauer has been following this historic transition from day one and uses her rare vantage point to take a behind-the-scenes look at these newcomer's individual and collective attempts to usher in real change in Washington. Steinhauer has covered numerous high-profile beats in her reporting career at the NY Times, from City Hall bureau chief and Los Angeles bureau chief to Capitol Hill. In 2006 she won the Newswoman's Club of New York Front Page Deadline Reporting Award for her reporting on Hurricane Katrina.
Jennifer Steinhauer has also been featured in:

Guest Links
The Firsts: The Inside Story of the Women Reshaping Congress
Buy
Trending Topics
Kathryn's wide range of guests are experts and influencers in their respective fields, offering valuable insights and information. Click the links below to view more episodes within the specific topic.
Related Episodes

Episode #1243

Kimberly Hamlin PhD

Washington Post columnist & Associate Professor of History, Miami University in Ohio

"Free Thinker: Sex, Suffrage, and the Extraordinary Life of Helen Hamilton Gardener"

Episode #877

"On Behalf of the President: Presidential Spouses and White House Communications Strategy Today"

Episode #869

"Choosing the Hero: My Improbable Journey and the Rise of Africa's First Woman President"