AIDS In NYC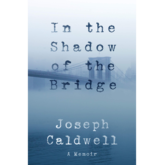 Listen
Kathryn interviews Playwright Joseph Caldwell, author of "In the Shadow of the Bridge: A Memoir." In his candid memoir of New York in the 1950s and 1960s, Caldwell recounts his bohemian life, his tenure working at WQXR, the venerated classical music station, marching in civil protests and being arrested, as well as a tragic love affair that inspired him to become a caregiver during the AIDS epidemic. He was awarded The Rome Prize for Literature by the American Academy of Arts and Letters.
Guest Links
In the Shadow of the Bridge: A Memoir.
Buy
Trending Topics
Kathryn's wide range of guests are experts and influencers in their respective fields, offering valuable insights and information. Click the links below to view more episodes within the specific topic.
Related Episodes

Episode #1437

Wayne Pernell PhD

Author, Speaker, Clinical Psychologist

"Dr. Wayne Pernell"

Episode #1542

"Daddy's Girl: A Father, His Daughter, and the Deadly Battle She Won"

Episode #1049

Tim Hague Sr.

The Amazing Race Canada Inaugural Season Winner

"Perseverance: The Seven Skills You Need to Survive, Thrive and Accomplish More Than You Ever Imagined"