Challenges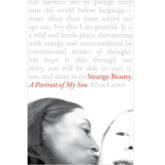 Listen
Kathryn interviews mother and activist Eliza Factor, author of "Strange Beauty: A Portrait of My Son". This intimate, no-holds barred memoir is the story of two little girls growing up in the shadow of their charming and fitful brother and of a mother imagining the world through the eyes of her son born with multiple disabilities, including cerebral palsy and autism. Eliza describes her pregnancy and the first few blissful months with Felix before the awareness that their son's life, and their own, will not be at all like she had imagined.
Guest Links
Strange Beauty: A Portrait of My Son
Buy
Trending Topics
Kathryn's wide range of guests are experts and influencers in their respective fields, offering valuable insights and information. Click the links below to view more episodes within the specific topic.
Related Episodes

Episode #1356

Steven Gardner MD

Author, Internist, Massachusetts General Hospital & Assistant Professor of Medicine, Harvard Medical School

"Jabberwocky: Lessons of Love from a Boy Who Never Spoke"

Episode #1078

Andrew Adesman MD

Pediatrician

"The Grandfamily Guidebook: Wisdom and Support for Grandparents Raising Grandchildren."

Episode #1353

Abigail Tucker

NY Times Best Selling Author

"Mom Genes: Inside the New Science of Our Ancient Maternal Instinct"