Sick to Death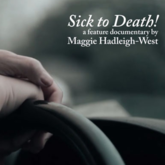 Listen
Kathryn interviews activist and independent filmmaker Maggie Hadleigh-West on her documentary "Sick to Death". After drinking radioactive iodine to kill her overactive thyroid, Hadleigh-West catapults into illness only to run smack into the medical corruption that is shredding the fabric of American life. Hadleigh-West is featured on 20/20, The Today Show, CBS News, BBC, NPR, and CNN.
Maggie Hadleigh-West has also been featured in:



Trending Topics
Kathryn's wide range of guests are experts and influencers in their respective fields, offering valuable insights and information. Click the links below to view more episodes within the specific topic.
Related Episodes

Episode #1040

Irwin Redlener MD

Co-founder Children's Health Fund

"The Future of Us: What the Dreams of Children Mean for Twenty-First Century America"

Episode #1161

Palmer Kippola FMCHC

Author & Functional Medicine Certified Health Coach

"Beat Autoimmune: The 6 Keys to Reverse Your Condition and Reclaim Your Health."