Aging-Friendly Communities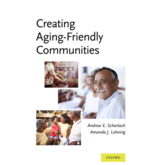 Listen
Kathryn interviews researcher and professor Amanda Lehning MSW, PhD and author of "Creating Aging-Friendly Communities". Dr. Lehning examines the need to redesign America's communities to respond to the realities of our rapidly aging society. Drawing upon the most current knowledge from a variety of relevant disciplines – psychology, sociology, urban planning and environmental gerontology - she examines proven approaches for making communities more aging-friendly. Dr. Lehning is Assistant Professor of Social Work at the University of Maryland School of Social Work.
Guest Links
Creating Aging-Friendly Communities
Buy
Trending Topics
Kathryn's wide range of guests are experts and influencers in their respective fields, offering valuable insights and information. Click the links below to view more episodes within the specific topic.
Related Episodes

Episode #1114

Larry Swedroe

Director of Research for Buckingham Strategic Wealth and The BAM Alliance

"Your Complete Guide to a Successful and Secure Retirement."

Episode #1141

Michael Hackard Esq.

Lawyer & Author

"Alzheimer's, Widowed Stepmothers and Estate Crimes: Cause, Action, and Response in Cases of Fractured Inheritance, Lost Inheritance, and Disinheritance"

Episode #1255

Anne Basting PhD

Author & Founder of TimeSlips

"Creative Care: A Revolutionary Approach to Dementia and Elder Care"