Fired!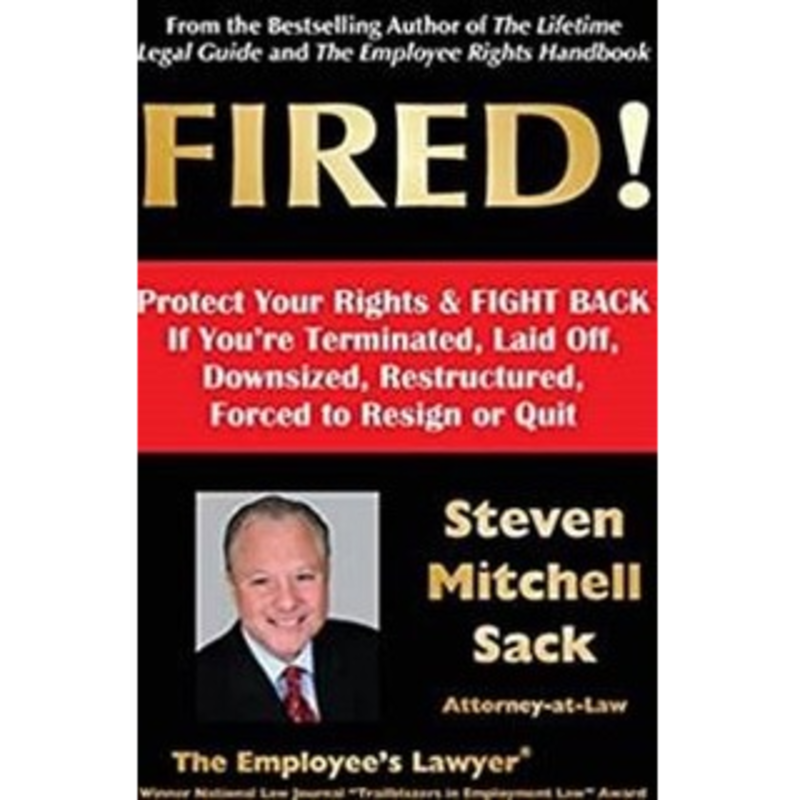 Listen
Experts believe that at least 150,000 people are unjustly fired every year. The costs of this injustice are enormous. The financial hardship imposed on workers and their families is severe, but the financial loss is only the beginning. Steven Mitchell Sack (The Employee's Lawyer®) has created a first-aid kit for surviving a firing. With over 41 years experience, Steven Sack gives you the information and power you need to fight back, cut a deal, stand up for your rights, and land firmly on your feet.Complete with up-to-date sample forms, letters and legal documents, FIRED! tells you in clear language what to do, what to ask for and insist on, and how to protect your rights if you are let go or forced to resign, feel you have been unfairly or illegally fired, exploited in any way or quit. He is a nationally renowned author and workplace attorney.
Guest Links
FIRED! Protect Your Rights & FIGHT BACK If You're Terminated, Laid Off, Downsized, Restructured, Forced to Resign or Quit
Buy
Trending Topics
Kathryn's wide range of guests are experts and influencers in their respective fields, offering valuable insights and information. Click the links below to view more episodes within the specific topic.
Related Episodes

Episode #1301

Linda Olson MD, FACR

Author & Motivational Speaker

"Gone: A Memoir of Love, Body, and Taking Back My Life"

Episode #1558

"Dancing with Disruption: A New Approach to Navigating Life's Biggest Changes"

Episode #1151

Karen Rinaldi

Author & Publisher

"It's Great to Suck at Something: The Unexpected Joy of Wiping Out and What It Can Teach Us About Patience, Resilience, and the Stuff that Really Matters."