A Loving Memoir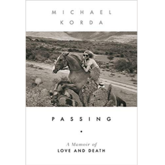 Listen
Kathryn interviews Michael Korda, NY Times Best-Selling author of "Passing: A Memoir of Love and Death." When troubling symptoms accumulated, Margaret confided to her husband, "Michael, I think something serious is wrong with me." Within a few weeks, the former fashion model was diagnosed with brain cancer, while Korda became her caregiver, deciphering bewildering medical reports and packing her beloved toiletries for the hospital. He's the former editor in chief of Simon & Schuster and a living legend in the publishing world.
Guest Links
Passing: A Memoir of Love and Death.
Buy
Trending Topics
Kathryn's wide range of guests are experts and influencers in their respective fields, offering valuable insights and information. Click the links below to view more episodes within the specific topic.
Related Episodes

Episode #1573

"The Beautiful Risk "

Episode #1096

Sherry Cormier PhD

Psychologist

"Sweet Sorrow: Finding Enduring Wholeness After Loss and Grief"

Episode #1374

"Shooting Out the Lights"