Coming Out in Brooklyn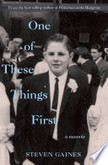 Listen
Kathryn interviews biographer Steven Gaines, bestselling author of "One of These Things First: A Memoir". Gaines is known for chronicling some of the 20th century's most notable artists, such as the Beatles and fashion designer Halston. Gaines reflects on his own story as a gay Jewish teen in 1960's Brooklyn and his trajectory to, after a failed suicide attempt, a private room in one of the most exclusive psychiatric hospitals in the world.
Guest Links
One of These Things First: A Memoir
Buy
Trending Topics
Kathryn's wide range of guests are experts and influencers in their respective fields, offering valuable insights and information. Click the links below to view more episodes within the specific topic.
Related Episodes

Episode #622

"Both Sides Now: A True Story of Love, Loss and Bold Living"

Episode #1019

Rachel Hershenberg PhD

Licensed Clinical Psychologist

"Activating Happiness: A Jump-Start Guide to Overcoming Low Motivation, Depression, or Just Feeling Stuck"

Episode #202

"Shock Therapy for the American Health Care System: Why Comprehensive Reform is Needed"