Community Building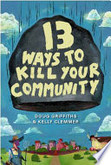 Listen
Kathryn interviews 'The Community Therapist' Dog Griffiths, author of "13 Ways to Kill Your Community". Considered the "me generation", millennials are often viewed as selfish slackers, but according to Griffiths, they are key to reviving and rebuilding our small communities. Griffiths is an advocate for policies that strengthen rural communities. He maintains that it is millennials who are essential to the future of these communities.
Guest Links
13 Ways to Kill Your Community
Buy
Trending Topics
Kathryn's wide range of guests are experts and influencers in their respective fields, offering valuable insights and information. Click the links below to view more episodes within the specific topic.
Related Episodes

Episode #622

"Both Sides Now: A True Story of Love, Loss and Bold Living"

Episode #1019

Rachel Hershenberg PhD

Licensed Clinical Psychologist

"Activating Happiness: A Jump-Start Guide to Overcoming Low Motivation, Depression, or Just Feeling Stuck"

Episode #202

"Shock Therapy for the American Health Care System: Why Comprehensive Reform is Needed"