Gender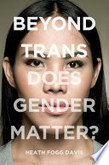 Listen
Kathryn interview Associate Professor at Temple University Heath Fogg Davis, author of "Beyond Trans: Does Gender Matter?" Whether on birth certificates or bathroom doors, why do we need to mark people and places with sex categories? Heath Fogg Davis, himself a transgender man, explores the underlying gender-enforcing policies and customs in American life that have led to transgender bathroom bills, college admissions controversies, and more.
Guest Links
Beyond Trans: Does Gender Matter?
Buy
Trending Topics
Kathryn's wide range of guests are experts and influencers in their respective fields, offering valuable insights and information. Click the links below to view more episodes within the specific topic.
Related Episodes

Episode #622

"Both Sides Now: A True Story of Love, Loss and Bold Living"

Episode #1019

Rachel Hershenberg PhD

Licensed Clinical Psychologist

"Activating Happiness: A Jump-Start Guide to Overcoming Low Motivation, Depression, or Just Feeling Stuck"

Episode #202

"Shock Therapy for the American Health Care System: Why Comprehensive Reform is Needed"