#Quarantinedlife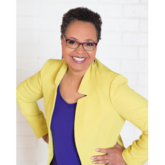 Listen
Right now, roughly 100 million people across the globe are practicing varying degrees of social distancing. #Quarantinedlife has become a trending hashtag on social media with scores of people sharing posts about boredom, anxiety and frustration with their new housebound lifestyle. As we enter #quarantinedlife for the foreseeable future, will basic health advice (like diet, exercise and sleep) be enough? And is it even possible? According to Dr. Lynette Charity, these general health guidelines are even more important as we self-isolate. She offers tips and actionable advice people can use to maintain a healthy lifestyle during #quarantinedlife. Dr. Charity is an author, humorist and award-winning international speaker who graduated with honors from Chatham College for Women and received her MD degree from Tufts University School of Medicine.
Guest Links
PHYSICIAN HEALTH TIPS FOR #QuarantinedLife: Dr. Shares How to Stay Physically & Mentally Healthy While COVID-19 Has You Housebound
Learn More
Trending Topics
Kathryn's wide range of guests are experts and influencers in their respective fields, offering valuable insights and information. Click the links below to view more episodes within the specific topic.
Related Episodes

Episode #1252

Dr. John Huber

Clinical Forensic Psychologist & Chairman for Mainstream Mental Health

"Mental Health During COVID-19"

Episode #1020

Nita Belles

In Our Backyard Executive Director

"In Our Backyard: Human Trafficking in America and What We Can Do to Stop It"

Episode #1249

Carole Lieberman MD, MPH

Award-winning Author & Psychiatrist

"COVID-19 Lockdown"